Adarsh Public School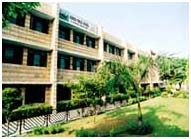 The single adage epitomizes the quest for disseminating the light of knowledge and learning by ADARSH PUBLIC SCHOOL situated in Vikas Puri, Delhi West. The school campus provides an aesthetic and sophisticated surrounding congenial for healthy teaching and learning. It is a co-educational, English medium Senior Secondary School with a moderate student teacher ratio. Fascinating environment, smartly, attired students, lush green lawns, committed and dedicated staff and above all a dynamic and compassionate Principal are the indispensable components of this Adarsh Institution. The school's motto "Simple Living and High Thinking" encourages one to adopt this ideal in one's life not only in words but also in action. This also helps in inculcating a sense of dignity of labour, faith in God-the almighty, fellow feeling, perseverance, high-ranking discipline, character and untiring efforts for achieving moral values of life.
The school owes its origin to Late Dr. Bhagat Ram Sahgal, an eminent educationist and social reformer who laid the foundation of this premier institute way back in 1936 in Lahore. After partition the school was shifted to Amritsar in 1955 and then to Delhi. Chairman Mr. P.K. Sahgal's commitment, devotion and relentless efforts bore fruits when the school was allotted land in Vikas Puri in 1986.
The school strives for academic excellence, which is clearly reflected in the board's results, which are not only reaching greater heights with the passing of each year but also record breaking. Emphasis is laid on the nurturing of fledgling through the development of mental and physical abilities. The school is known for excellent discipline in this age of disillusionment and disenchantment where there is moral decadence prevailing all around. Behavioural growth and changes are monitored intensively. Extensive efforts are put in to bring out individuals who are academically sound, mentally alert and awake and morally equipped to cope up with the fast changing environment.